Akiles CoilMac-M Manual Coil Punch and Binding Machine

Item #:

AMCM

20 Sheets Per Punch (20# Paper)
Round 4:1 Holes
Manual Punch
1 Year Warranty

Free Shipping!




$424.01
Frequently Bought Together
Product Description:
Quality Built:
The Akiles CoilMac-M provides efficiency and productivity in an easy to use design. Its high quality components and full range of functions make it the most complete and durable equipment in its class, and one of the simplest to operate. The Akiles CoilMac-M is the ideal partner for your important coil binding jobs.
Strong 4:1 Coil Punch:
**Voted strongest coil machine for class and size.** The Akiles Coil Mac manual coil binding punch & manual coil binder is the strongest small coilbind book binding machine available. The Akiles CoilMac punches 4:1 pitch round holes (4 holes per inch of paper) to pair with spiral coil binds to completely bind your books.
Open-End Design for Normal & Large Books:
The Akiles Spiral Coil Mac Coil binding punch book binder is an open ended coil paper punch, allowing over size plastic coil book binding. The Akiles book binder coil mac has coil die punch pins that can be pulled to allow for spiral coil binding on the 8.5" or short side of the paper. This Akiles punch will make spiral coil bound books from 6mm (1/4" thick) to larger books up to 50mm (2" thick) using spiral coil spines.
Who the CoilMac is for:
Akiles brand coil book binding machines are considered to be some of the best available. If you're binding up to roughly 25 books a day and are looking for an affordable alternative to the print shop, the Akiles Coil Mac is the smart & affordable way to go. The Akiles CoilMac-M is built with metal construction and has a 1 year warranty.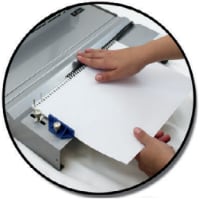 Coil Inserting Table - Detachable table that greatly speeds coil inserting.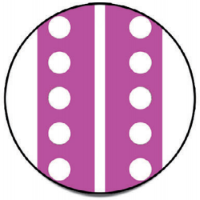 4:1 Round Holes - The standard hole size & pitch for coil binding.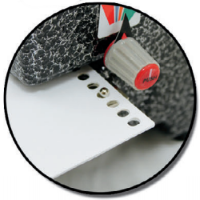 Continuous Punch Guide Pin - Need to punch longer documents? This pin makes it easy to properly position the sheets for the second punch.
Key Features:
Extended Single Punching Length - 13" : With open ends & continuous punch guide to easily punch documents of any length (up to 26").
High Volume Punch Capacity: Suggested up to 20-sheet* for 20 lbs paper, or 2.6mm (28-sheet equivalent)** for hardboard, in 13" length (53 holes).
Super Strength Punch Mechanism with exclusive "Precision Guiding System" Blade Set: Cast-hardened & heat-treated steel dies provide superior strength & hardness. Exclusive "precision guiding system" guarantees a sharp & clean perforation everytime.
Exclusive EZ Inserting TableTM with Detachable Design: Expedites the inserting of coil into the document; reducing costs and binding time. Detachable design allows the Punch & Inserting Table to be placed side-by-side, allowing one person to punch the paper while another person to insert the coils… a great time-saver on those time-sensitive binding projects.
Side Margin Control: Provides an evenly centered punch for all document sizes.
Punching Margin Control: Provides the correct punch-margin-depth for each coil size and maximizes the document's tear resistance.
Open Throat and Continuous Punch Guide: For an easy alignment and punching of longer documents up to 26".
Rugged ALL Metal Construction: Makes it the most reliable & durable coil binding system in its class.
Large Waste Drawer and Non-Skid Feet
ISO9001 & 14001 Quality: Manufactured under ISO9001 & 14001 guidelines for highest quality control & environmental management standards.
Includes Coil Diameter Selector
Item Specs:
Model:
CoilMac-M
CoilMac-M+
Pitch Available:
Standard 4:1 (0.250")
[ Other pitches also available upon special request ]
Letter 4:1 (0.248")
Operation:
Punching - Manual
Inserting - Manual
(with EZ Inserting TableTM)
Single Punch Length:
13" (53 holes)
13" (54 holes)
Hole Size:
Round (4mm)
Oval (4mm x 5mm)
Disengageable Pins:
5 out of 53
All 54
Suggested Punch Capacity:
Up to 20 sheets for 20 lbs paper*
Up to 2.6mm for hardboard
(28-sheet equivalent thickness)**
Suggested Binding Capacity:
Up to 2" (manual insert)
Weight & Volume:
35 lbs & 2.50 CbFt
Warranty:
1 Year