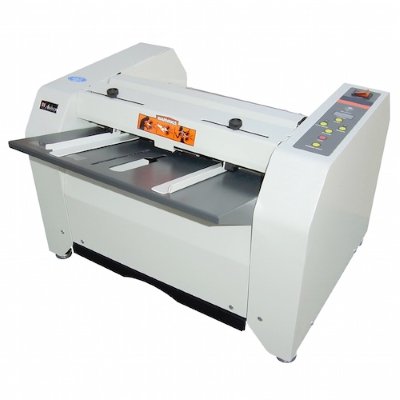 Finishing Equipment
Paper finishing equipment includes items like folders, joggers, drills, perforating and scoring machines, booklet makers, collators, shrink wrappers and supplies, padding presses, and more. We carry a full line of print finishing supplies and accessories for individuals and businesses alike.
---
Whether you are or need to process paper, make finished products, wrap them, or anything finishing related, we have the machines, supplies, and accessories you need. Paper drills provide an effective way to put holes in documents, and paper joggers make all paper handling easier by quickly aligning them for easy use and feeding into other machines.

Paper folders make accurate and efficient folding easy, and if you want to take that a step further, our booklet makers quickly turn out finished documents. Need to perforate, score, collate, make paper pads, or shrink wrap? You've come to the right place!

We have everything you need for finishing, and are ready to answer any questions you have. Want to make sure you get the right equipment and print finishing supplies for you? We'll make sure to explain any differences and help you get the best items for you. Call us today at 1-866-455-9900 for fast and friendly service!
Paper Folders come in two main styles, air feed and friction feed. They both give the advantage of accurate and efficient folding of paper and similar materials. Many folding machines have a variety of presets or custom settings to give you full control over your folding operations.

Paper Jogger machines use vibration and/or air to quickly align and straighten paper and similar materials. This provides multiple benefits and is exceptionally useful when used with other paper handling equipment. With small tabletop machines and large standalone models, you have plenty of options to choose from.

Paper Perforating and Scoring Equipment is designed to make perforation, scoring, creasing, and folding easier. With compact models, medium size, and large multi-function machines, there are many options and features to choose from.

Paper Drills provide an easy and reliable way to put holes in up to entire reams of paper at a time, greatly improving speed. We carry a full line of drills, bits, equipment and accessories to keep your paper handling running smoothly.

Booklet Makers were created to greatly increase the speed with which you can bind booklets. These machines are easy to use, and come with many additional features to make things even easier. By using staples to bind, many of these automatic booklet maker machines can produce up to a couple thousand booklets per hour.

Paper collator machines are one of the most time-saving pieces of office equipment you can have, especially if you frequently find yourself collating dozens or hundreds of documents. By giving you the ability to quickly organize and assemble up to around 4000 sets per hour, you'll be saving time and money.

Paper Padding Press Machines are used to make everything from notepads, order sheet pads, and many other types of forms and materials. Using an adhesive compound and padding machine, you can make hundreds or thousands of pads quickly and easily.

Shrink Wrapping is an effective way to securely package, protect, and ship products and items. Here at Skyline we carry a complete line of all kinds of shrink wrap machines, systems, shrink wrap, and tools. If you need anything shrink wrap related, we have you covered.

Automatic Letter Openers make opening large amounts of mail easy. Letter opening machines are available in different models to accommodate various amounts of letter handling.

Letter openers are a great solution for businesses, schools, and many other places where mail needs to be opened quickly and easily. Their compact size means you can place them anywhere you receive your mail, and they can be moved around with ease.