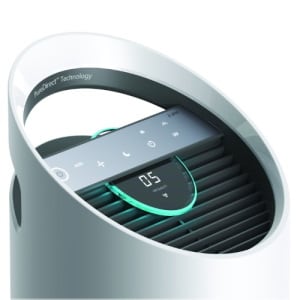 TruSens Air Purifiers
Breathe easy.
TruSens: Air purification done RIGHT!
TruSens air purifiers come in three sizes: small, medium and large, to cover different room sizes in your living space and have differentiating features from competitors, one being PureDirect™ Technology. PureDirect Technology utilizes bidirectional airflow, which has been proven to be up to 24% more efficient than traditional air purifiers with vertical stream.
Cleaner air, distributed by way of PureDirect Technology, is made possible with multiple layers of filtration, including 360º DuPont™ HEPA filters to capture air pollutants in all directions. Finally, the UV-C light kills germs and bacteria trapped in the filter.

"combating indoor air pollutants with my new air purifier"
"TruSens goes a step beyond other traditional air purifiers in more ways than one."
"Once the SensorPod knows what the air quality is like in the room, it communicates that with the purifier and the settings change automatically. That way, you never have to guess what setting it should be on or wonder if it's actually working or not."
Lake Shore Lady | Lauren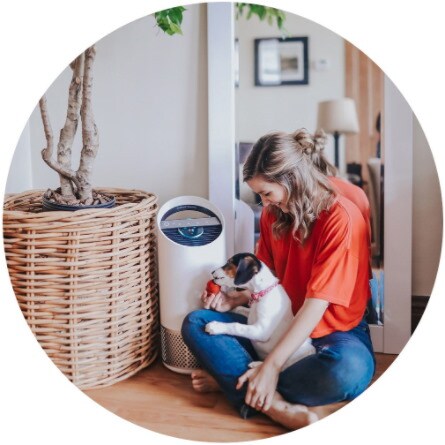 Air purification can be further customized using the following specialty filters:
Allergy and Flu Anti-viral True HEPA Filter: Captures 99% of airborne allergens and viruses, including the H1N1 virus.
Pet True HEPA Filter: Captures up to 99.97% of pet dander and eliminates common pet odors with special washable cotton pre-filter; and
Odor True HEPA Filter: Eliminates cooking and cleaning odors and reduces Volatile Organic Compounds (VOCs) with high-performance carbon pellets.
To further differentiate the product line from competitors', the TruSens team combined exceptional functionality with a contemporary, minimalist design for an air purifier that effectively helps reduce airborne pollutants in the surrounding area and blends seamlessly into any indoor environment.
This functionality combines the use of the air purifier itself and the SensorPod air quality monitor. Placed across the room, SensorPod communicates to the purifier so it can adjust fan speed, as needed. The SensorPod is available only with the Z-2000, Z-3000, Z-2500, and Z-3500 TruSens air purifiers.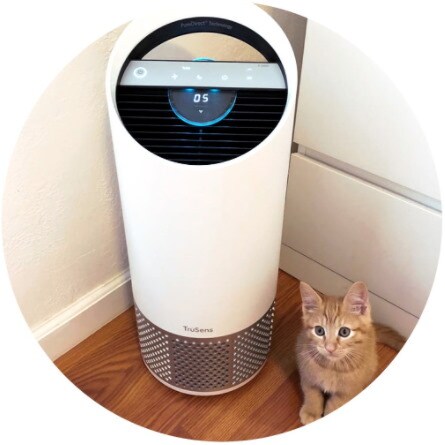 "My Pet and Pollen Allergies Were Out of Control, Until I Bought This Smart Air Purifier"
"The overall air feels crisp and fresh just walking into the room. Sleeping feels a lot easier, too; we no longer wake up feeling like we have a stuffy nose from allergies. If you've been thinking about getting a purifier, this is the one I would recommend."
POPSUGAR | Krista Jones
Compare TruSens Air Purifiers
Air Purifier Model

TruSens Smart App
Alexa voice commands
Wi-Fi® Enabled
Bluetooth®
Enhanced SensorPod Air Quality Monitor
(senses PM1.0, PM 2.5, PM10, VOCs)
SensorPod Air Quality Monitor
(senses PM 2.5, PM10)
Air Quality Indicator
PureDirect Technology
Levels of Purification
4
4
4
4
3
Washable Pre-Filter
Carbon Pre-Filter
Carbon Filter
Filter
true HEPA
HEPA type
true HEPA
HEPA type
HEPA type
UltraViolet Light
Room Coverage
1,425 sq. ft.
668 sq. ft.
1,425 sq. ft.
668 sq. ft.
443 sq. ft.
Auto Mode
Carry Handle
Touch Controls
Dimensions (WxH)
10" x 29"
9" x 22"
10" x 29"
9" x 22"
8" x 18"
Color Variation
White
White
White
White
White
Charcoal
Weight
12.6 lbs
9.0 lbs
12.6 lbs
9.0 lbs
7.7 lbs
2 Year Limited Warranty