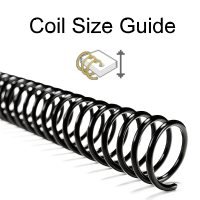 What size of Coil Binds do I need?
To pick the correct size Coil Binds (aka Plastic Spiral Coil), follow this plastic coil binding size chart or call us at 1-866-455-9900.
Plastic Spiral Coil Binds
These 12" Coil Binds are sized to fit up to letter-size documents (8 1/2" x 11"). Browse the sizes below, pick your color, and contact us for more information on our binding coils sizes and options at 1-866-455-9900 today!
Printable Plastic Coil Bind Size Guide
Call 1-866-455-9900 for even more colors, sizes, and options!