---

Whether you would simply like a custom sized cover or a printed, stamped, windowed, and embossed work of art, Skyline can do it all! We have a wide variety of special textures, materials, and customizing options available for your covers.

If you're looking at ordering covers printed with the same design over time, we have you covered! By keeping the dies and artwork on hand, we can reprint your custom covers whenever you need more. Our Custom Specialists are always ready to answer any questions and help you get the best custom covers for all your binding needs at 1-866-455-9900.

Request Your Quote Here

---
| | | | |
| --- | --- | --- | --- |
| | | | |
| Many colors available | Any custom size you need | Punched or un-punched, your choice | Foil stamping for that classy finish |
| | | | |
| Embossing and debossing | Rounded corners for smooth edges | Silk screening | Any custom ink colors |
* Resale pricing available *
Click the pictures below to expand: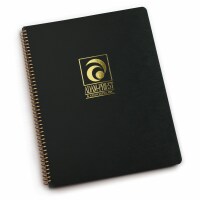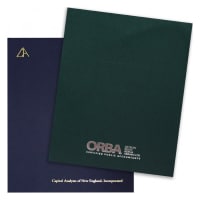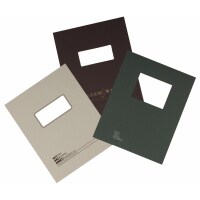 * Call for a free quote on custom presentation covers: 1-866-455-9900 *
Materials Available
Custom Sizes Available

Composition Covers (aka Regency, Vinyl, Comp)
Linen
Sturdy Grain
Poly Covers (aka Plastic, Polypropylene)
Clear Covers
Frosted Covers
+ Many other materials in a wide variety of colors

8 1/2" x 11"
8 3/4" x 11 1/4"
9" x 11"
8 1/2" x 14"
11" x 17"
+ All other custom sizes

Window Options
Ink Colors

1 3/4" x 4" - Window is centered horizontally and starts at 3" down from the top of the document
+ All Custom Sizes

Dozens of Standard Colors
+ All Custom PMS and RBG Colors

Punching Patterns
Foil Stamping

3-Hole Punch
4:1 Plastic Spiral Coil
4:1 Plastic Spiral Coil (.2475 pitch)
3:1 Twin Loop Wire (square holes)
2:1 Twin Loop Wire (square holes)
3:1 GBC ProClick (square holes)
19 Hole Comb Bind
9 & 11 Hole Velobind
+ All Custom Punching

Shiny Gold
Shiny Silver
Black
White
Metallic Red
Metallic Blue
+ Dozens of Custom Colors

Emboss/Deboss
Other Options

All Embossing and Debossing
+ Can be paired with Foil Stamping and Inking for an extra classy look.

Round Corners
Silkscreening
Offset Printing
+ Other options available as well!
---
How to emboss like a boss! - All About Embossing
Be the expert your customers expect—more than ink on paper, embellishments attract potential customers and give a feeling of professionalism to any printed piece. In this issue, we'll focus on the basics of embossing. The more you know, the more you can help your customers emboss like a boss!
What is embossing?
Embossing refers to a raised surface or a three-dimensional effect that emphasizes a particular area on the design. Embossing is often used for company logos, illustrations, personal name imprints, or patterns for a more luxurious effect.
How it's done:
The process starts by creating a die made up of two metal plates (the female die on top of the stock and the male die on the bottom as a counter die). The paper is sandwiched between the two and the design is transferred to the paper.
Types of embossing:
There are many types of embossing techniques—but these are the most common:
Single-level: An embossing or debossing die that changes the surface of the paper at one level.
Multi-level: A die with a number of distinctive levels with different depths.
Sculpted: A hand-tooled (usually brass) die, that embosses many levels using curves, angles, and varying depths.
Blind: a printing technique that does not include the use of ink or foil.
Registered: places the embossed image in alignment with another element, like ink or foil.
---
Standard Materials:
GBC Vinyl (GBC-Regency / GBC-Composition report cover)
Heavy Weight Linen stock paper cover
Clear Cover or Clear Cover with Frosted Finish
GBC & other presentation binding covers are available in:
Black, Navy, Maroon, Hunter Green, Red, Gray, White, Clear, Clear with Frost Finish, and many other colors.
---
* Call for a free quote on custom presentation covers: 1-866-455-9900 *
---
Foil Stamped Presentation Covers, Foil Stamped Folders, and more

Foil stamped presentation folders are often made to have your business logo and name in a Professional Silver or Gold printed on them. GBC foil stamped folders are sometimes called Leather Flex, Flexigrain, Leatherflex, GBC Regency Covers, Comp Covers, Composition Covers, Skivertex 17, CoverCut 17 or Leather Like Covers. GBC Presentation Covers are made from a high quality 17 pt vinyl coated paper with a leather finish.